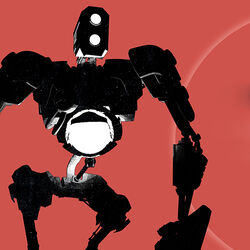 Duncan is a companion of Joule.
A rugged Core with a gruff and stubborn personality, Duncan is well-suited to the AP-3 frame. In this configuration, Duncan was originally tasked with excavating the foundations of the Far Eden colony. But he will now aggressively smash rocks and other obstacles that have clogged colony facilities over time. he is an abandon corebot that used to be with viktor until he could no longer help his robot revolution. this poor baby I feel bad for him, I can not say what level you get him on but I can say that you will find him very useful, so good luck and try not die in the fight against viktor.
Having his own human companion long ago, Duncan tried and failed to stop Victor and had drawn inscriptions of Victor's rise to dictatorship on the inside walls of his deceased companion's Sand Crawler. Eventually Joule Adams finds the Crawler and discovers these inscriptions and the skeleton of his companion. Discovering they have the same goal, Duncan joins Joule in her quest to stop Victor.